---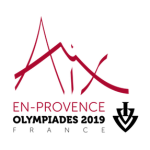 In 2019, we will meet you in Aix-en-Provence from 15 to 19 October for the 16th edition of the Olympiades International Popular Sports.
Spread over 5 sites, the activities are: hiking, mountain biking, cycling, swimming, geocaching and marathon.
An Olympiad Pass will be available from 22 March 2018 for the time of this event, which includes transport to the different event sites.
---
The 16 Olympiads are organized by the FFSP - IVV France. The Aix-en-Provence Tourist Office declines any responsibility in case of modification of program, cancellation by a third party or in case of major force.